Gaza, Iraq, Nigeria, Pakistan, now Ukraine. Armed attacks against schools and universities impose a reflection.
The 2014 Report by the Global Coalition to Protect Education from Attack documents trends and cases, country by country – dispelling easy myths while calling for public engagement.
---
First day of school in Donetsk, Eastern Ukraine. School no. 57 is hit by 5 shells: four adults are killed – three are civilians, including a biology teacher, one is a paramilitary guard from the local pro-Russian separatists. Five others are seriously injured. Everyone in the school says they were hit by 'Uragan' rockets, and a shell hit the school's courtyard. They points their finger towards the Donetsk Airport, where Ukraine's troops, sent by elected President Poroshenko, are engaging with separatists backed by Moscow.
Rewind: two months ago, Israeli Defence Forces show a video of Hamas firing rockets from a school: the army admits to shelling the Beit Hanun UNRWA school, but it adds that the school was hiding munitions, and rejects claims of casualties. Needless to say, the usual argument by the Israeli army is that Hamas chooses where battles are fought, the IDF being only 'returning fire' coming from the vicinity of the schools. Hundreds of thousands of Palestinians were forced out of their homes by Israeli last-second warnings: they had to flee into shelters operated by the United Nations: tens of UN-operated schools were therefore turned into shelters. While Israeli extremists in their rallies were seen on social media chanting 'School is out in Gaza, they have no children left there", Gaza's ministry denounced that more than 100 schools had been damaged. On August 8 The Guardian documented that six schools appeared to have been deliberately struck: hundreds were those who were wounded, 47 were those who were killed in these attacks. Valerie Amos, the UN top humanitarian official, described Israel's deadly attack on a UN school in northern Gaza as "appalling": days after UN secretary-general, Ban Ki-moon, was more explicit, calling the Rafah school strike of 3 August "a criminal act."
The truth is that the world of education, from primary schools to universities, is everywhere increasingly in the line of fire of asymmetric warfare. Data are impressive, and often concealed by the broader, disputable figures regarding victims in today's war bloodsheds, as a recent report by the Global Coalition to Protect Education from Attack (GCPEA) has documented.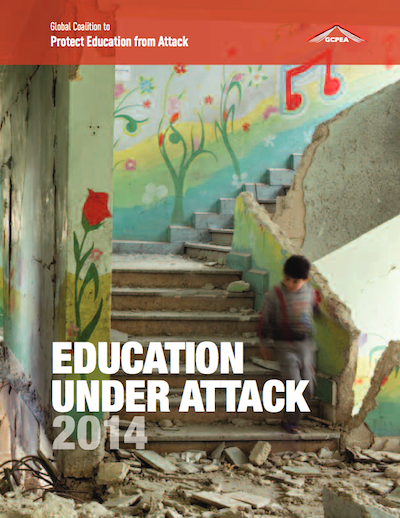 Global media have been telling how the world, all the way into the White House, has been holding the breath over the fate of the students kidnapped by Boko Haram in Nigeria. They have been asking their release, like they have been celebrating the courage of the Malala Yousafzai in Lahore, Pakistan. Yet this is not simply a struggle between barbarians attacking our children at school and the world of higher education, and 'we' strenuously engaged in a fight to defend. Doubts about the myths of counter-terrorism are for example raised by Adam Dolnik's famous account of the several contradictions that obfuscate our understanding of what happened in and around Beslan's School no. 1, in North Ossetia, during the hostage crisis of the first day of school of 10 years ago. But there is more: what is most disconcerting once one zooms out on more general observable trends is perhaps that attacks on universities are not to be found on the side of actors that the international community bans as 'terrorist'. Sure, we have the self-styled Islamic State (of Iraq and the Levant – ISIS or IS) launching its major 2014 offensive in Iraq by storming the Anbar University near Ramadi and holding students as hostage (days after ISIS was also reported to have seized nuclear materials used for scientific research at a university in Mosul).
Nonetheless, schools and above all universities are routinely attacked by state forces, as the case of US-led coalition forces in post-2003 Iraq shows. Counter-terrorism tactics constisting in attacking higher education can be seen also behind violence in Mexico, Colombia and the Philippines, as the above mentioned 2014 GCPEA report (download here). And ultimately, it was the warplanes of 'Operation Dignity' – led by renegade Gen. Heftar, who gathers tacit support among several Western actors – hit the university of Benghazi, in Libya's Cyrenaica, as they were targeting Islamist forces. The fact that in a city swept by a wave of targeted killing and surrounded by fighting, students refused the 'protection' offered by the Islamists of the Shoura Council, and sought to resume academic activities is something that should induce a deep reflection, and calls for more attention, research and solidarity on attacks against education.
---
Acknowledgements
Image credits: Reuters (cover) and GCPEA.