By Mattia Farris, Beatrice Autelli, Claudia Knering, and Alessia Muzzin -
The wealthy Italian province of Bolzano/South Tyrol was already known to the international community for the political division between Italy and Austria with regard to the controversial management of migration via the Brenner Pass. In the past few weeks it captured, once again, the attention of the public following the death of Adan Abdulrahman, a 13-year-old Iraqi boy seeking asylum.
Adan and his family fled the ongoing conflict in Kirkuk, Iraq in 2015. After the killing of one daughter and considering the muscular dystrophy affecting Adan, the decision to seek asylum in Sweden seemed the last resort for a better, safer life.
In September 2017, after more than one year in Sweden, their asylum request was eventually turned down. They were offered two options: to leave the country or to be deported back to Kirkuk.
Thus, they decided to reach Bolzano, which currently hosts 1.400 asylum seekers and where a sizeable Kurdish community is based. Once arrived, on October 1, the family struggled to find accommodation and had to sleep under a bridge for the first night. The following days, volunteers provided them with temporary solutions. Although local social services had been notified of their condition, neither further help nor proper response was given to Adan's family. During this strenuous week, while his family kept struggling with bureaucracy, Adan fell from his wheelchair and this accident worsened his already poor health conditions. After having been hospitalized twice, he eventually died on October 8.
This tragic event has raised a number of issues concerning the migration system, both at local and European level.
In particular, it drew attention on the highly contested Circolare Critelli, a local regulation (i.e., only valid in South Tyrol) that entered into force in 2016. In the Italian legislative and administrative system, a circolare consists in a written communication which circulates within a body of the public administration to provide instructions on the interpretation and implementation of a given legal or administrative act. This particular circolare restricts the category of 'vulnerable people' eligible for temporary reception by excluding those entering Italy from another State where they could have applied for international protection. However, these restrictions do not apply to extremely vulnerable individuals, such as those affected by particularly severe health condition. In these cases, in fact, asylum seekers are eligible for temporary reception, even if just for three nights.
During the past year, this Circolare has been harshly criticized by several voluntary associations such as Caritas and SOS Bozen. After Adan's death, also the UNHCR critically addressed it, claiming that its abolishment is necessary.
Its application might have undermined the possibility for Adan's family to obtain protection.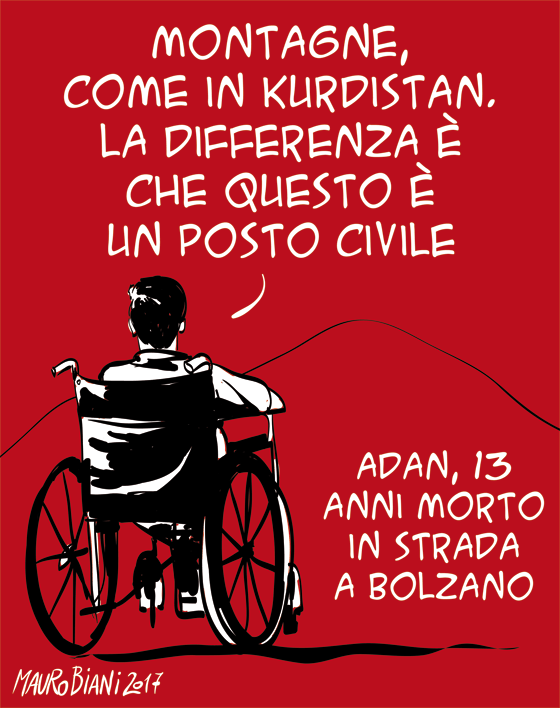 On October 24, we reached by telephone the Italian constitutional lawyer and senator Francesco Palermo to shed light on this event.
Dr Palermo is professor of comparative public law at the Faculty of Law of the University of Verona. He also served as president of the Advisory Committee on the Framework Convention for the Protection of National Minorities and as director of the Institute for Comparative Federalism at Eurac Research, in Bolzano. Moreover, in 2013 he was elected non-party senator for the Autonomous Province of Bolzano/Bozen and is a member of the Constitutional Committee and the Human Rights Committee of the Italian Senate.
We asked senator Francesco Palermo to clarify the role played by the Circolare in this tragedy.
First of all, it is essential to understand whether the Circolare is in breach of EU law.
'There is a margin of appreciation given by the EU to the Member States in order to define the details in terms of services that can be made available to asylum seekers' - Dr Palermo explains - 'so the compliance of this particular act with EU law needs to be checked on a more detailed basis. In fact, the question is whether it lies or not within the limits of discretion left to Member States or to subnational entities'.
In any case, bearing in mind that prima facie there is no blatant
violation, the underlying issue that needs to be clarified is the causal link between the Circolare and the rejection of Adan's family.
Referring to this matter, the senator continues: 'There is no immediate correlation to the text. Extremely vulnerable cases, like Adan's one, are indeed covered in the act and the family would have been eligible for temporary reception. The core of the problem might rather be the interpretation given in this particular case, which is not in line with EU and national law. There are vulnerable people who cannot be rejected on any ground. In light of that, something clearly went wrong in its implementation'.
Irrespective from the legality of this Circolare, the climate it
created has to be acknowledged. In fact, as Dr Palermo specifies, 'an act which limits the reception of certain categories of migrants inevitably favors an exclusionary attitude. It is then highly plausible that those who are responsible for its implementation tend to be extremely careful, thus resulting in narrowing its interpretation'.
The aforementioned exclusionary attitude is further compounded by the hostile atmosphere towards migrants existing in Bolzano. In this sense, it is interesting to notice that CasaPound, a far-right wing and xenophobic party, reached a significant level of political consensus in recent times. As a matter of fact, Bolzano has been the first Italian municipality to have a member of CasaPound within its council.
Beyond doubt, this tense climate had implications on the issuing of the Circolare in the first place and, subsequently, on its inaccurate interpretation.
Adan's death might also have shed light on a broader issue. Thus, we asked senator Francesco Palermo whether the tragedy occurred in Bolzano has to be regarded as an isolated case or if it does reveal major flaws of European, national and local management of asylum requests.
'It is certainly an isolated case, as it was particularly severe and rare for its particular circumstances. At the same time, it also underlines the flaws of the whole system, which was originally designed in the early 90s trying to accommodate a completely different situation.
Now that the European system has to face current migration flows, many grey zones are inevitably emerging'.
The deficiencies pointed out by Palermo are the object of an undergoing revision at EU level. The reform of the Dublin regulation, which has been approved by the European Parliament on November 16 and will be now analyzed by the Council, would change the controversial 'first country' rule. The existing regulation, in fact, establishes that asylum requests must be presented in the country of first arrival, which is competent for the evaluation.
In addition to the allocation of competences among the Member States, also the applicability of the principle of subsidiarity has to be considered. In this regard, the question arises of whether a more centralized or decentralized system is needed. In Palermo's view, there is no clear cut answer to this question.
'The whole legal framework cannot be but European. Then, when it comes to the relationship between a Member State and its subnational entities, the central government has to coordinate actions taken directly by territorial authorities. The latter are in principle better suited for the reception of migrants, even if it very much depends on the capacity of each territory.'
Adan's tragedy cannot divert the attention from the main failures of the European migration system. On the contrary, it has to be a starting point to deeply investigate them.
How many more tragedies do we have to witness before undertaking a
structural reform within this domain? Migration towards Europe cannot be regarded as an emergency anymore.
---
About the authors
Mattia Farris
Erasmus student at UCL Mons, Belgium & UE Wrocław, Poland. BA in Political Science from the University of Cagliari. Master's student in International Security Studies at Sant'Anna School, Pisa.
Beatrice Autelli
Graduated in North African & Middle Eastern Studies from Ca'Foscari University of Venice. Fluent in Arabic. Master's student in International Security Studies at Sant'Anna School, Pisa.
Claudia Knering
Born and raised in Bolzano/Bozen. Master's student in Security Studies. Graduated in European Studies from Maastricht University. Worked for a Permanent Mission to the UN in Geneva and Vienna.
Alessia Muzzin
Graduated in Diplomatic Sciences from the University of Trieste. Worked for the Commission for International Protection in Gorizia. Now studying International Security at Scuola Superiore Sant'Anna.
Acknowledgements
Cover photo: Adan Abdulrahman's wheelchair at a pro-refugees demonstration in Bolzano on 10 October 2017, by Lisa Maria Gasser / salto.bz