Governing the Radical through Power, Knowledge, Economy and Routine.
EISA Prague 2018 – Call for Papers and Panels.
Convenors:
Charlotte Heath-Kelly (University of Warwick)
Ervjola Selenica (University of Trento, CIE - University of Sussex)
http://www.eisapec18.org/
Deadline for submissions: February 1, 2018
The notion of 'radicalisation' has existed for almost fifteen years in European policy circles. During this time, states have utilised global and regional policymaking fora (like RAN & GCTF) to develop and trial initiatives which disrupt the development of 'radicalism' and/or 'extremism'. But these transnational policymaking hubs rely on a narrow subset of academic and practitioner knowledge, ignoring scientific disagreement about 'processes' of 'radicalisation' (Bjørgo & Horgan 2008).
Cleavages between scholars, professionals, experts and members of different epistemic communities are emerging along different lines. Not only do they revolve around the conceptual foundations of what might be termed an emerging area of 'radicalization studies', but also the types of knowledge that is produced at these sites and by these actors. In the absence of consensus, counter/de-radicalisation and CVE policies rely upon in-house studies of policy effectiveness, the recycling of metaphorical narratives and circular assumptions about vulnerability to radicalisation, and portrayals of counter-radicalisation as the banal extension of social care.
This section is interested in the intersections of power, knowledge, economy and routinisation in the practices of counter-radicalisation and CVE. Official policies and practices are the object of study here, rather than the mobilisation of individuals and communities towards political violence. Panel and paper themes could include:
Counter-radicalisation in education;
The deployment of counter-radicalisation within structures of social care;
Critical Border Studies and post/de-colonial analyses of CVE;
New developments in policing associated with extremism and radicalisation;
Economies of counter/de-radicalisation;
Psychiatric services and counterterrorism.
We invite both full panel and individual paper submissions for the section here
https://www.czech-in.org/cmportalV15/Account/Login…
Any queries should be directed to c.heath-kelly@warwick.ac.uk and ervjola.selenica@gmail.com and further details are available at
http://www.eisapec18.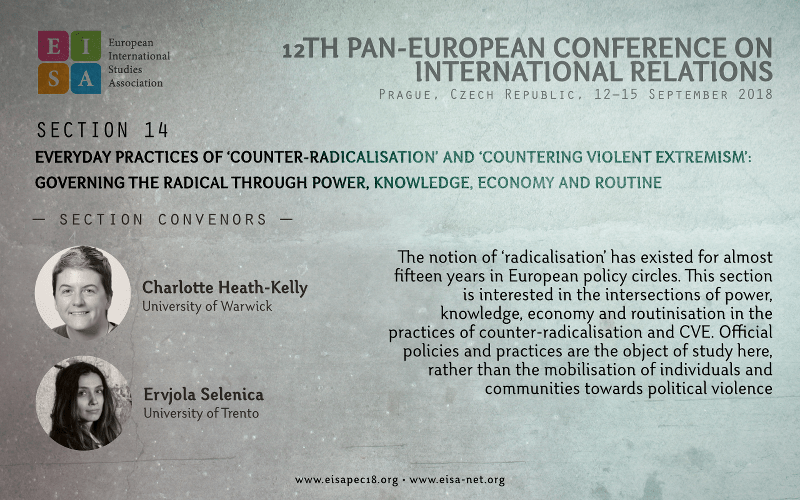 References
Bjørgo, T. and Horgan, J. (Eds.) (2008). Leaving Terrorism Behind: Individual and Collective Disengagement. (New York: Routledge)
Acknowledgements
Cover photo: !Ghost, by Massimo Accarino, (CC) 2014.